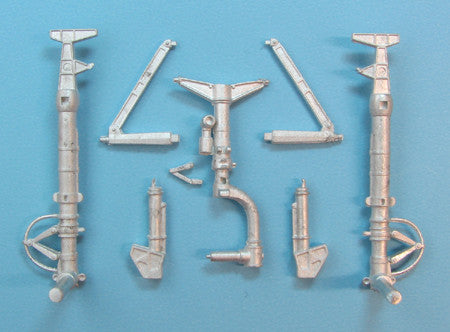 SAC 48154 P-61 Black Widow Landing Gear For 1/48th Scale Great Wall Model
---
P-61 Black Widow Landing Gear For 1/48th Scale Great Wall Model SAC 48154

It has come to our attention that the nose gear in the Great Wall kit and our original set is about 5 mm too short. This seriously affects the final stance of the model. Working with Tom Cleaver and Terry Dean we have corrected the nose strut and the retraction assembly. Any customers who have purchased our set containing a nose gear measuring 27 mm are requested to contact us. Let us know where and approximately when you purchased your set(s). Please include your mailing address. We will send the replacement parts immediately at no cost.

Advantages:

One advantage of white metal over styrene plastic is strength.
 Metal parts will not warp under the weight of a built model regardless of the size of the aircraft, no matter how many years it stands on display.
Another advantage of white metal is the way it holds up under "working" conditions (drilling, scoring, sanding, etc.), as it is much more dense than styrene plastic and has a much higher melting point.
Being quite malleable, it can be bent without the fear of breaking & a useful characteristic when it comes to final alignment "tweeking".
Part are cast in a Lead Free Pewter by Scale Aircraft Conversions
---
Share this Product
---
More from this collection