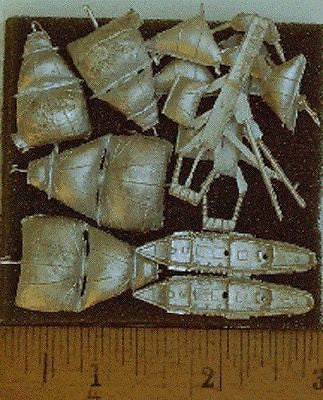 Kit# 9105 - English Man O War Ships
---
Spanish Main Ship are 1/1200th Scale

Spanish Main Kit# 9105 English Man O War Ships.
Kit contains two unpainted and unassembled lead free pewter ships. Ships measure 1- 5/8 inches long and are in the 1/1200th scale.
Journey back with us to the days of high adventure . . . When Spanish Treasure Galleons sailed the Seven Seas, laden with the gold of the New World, destined for the coffers of the King of Spain . . . When Elizabeth of England's Sea Hawks cruised the oceans of the world in search of them . . . When the fate of England hung in the balance as her fleets battled the mighty Spanish Armada . . . When the Jolly Roger ruled the Caribbean, the buccaneers prowled the Spanish Main for plunder . . . The age of gold doubloons, pieces of eight, and, by no small coincidence, our "Spanish Main" 1/1200 scale series of miniature men of war.
---
Share this Product
---
More from this collection