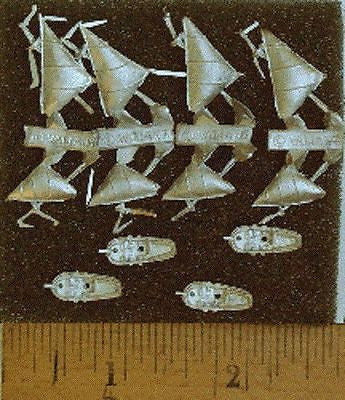 ---
Spanish Main Ship are 1/1200th Scale

Spanish Main Kit# 9109 - Pinnaces Ships.
Kit contains four unpainted and unassembled lead free pewter ships. Ships measure 5/8 inches long and are in the 1/1200th scale.
Journey back with us to the days of high adventure . . . When Spanish Treasure Galleons sailed the Seven Seas, laden with the gold of the New World, destined for the coffers of the King of Spain . . . When Elizabeth of England's Sea Hawks cruised the oceans of the world in search of them . . . When the fate of England hung in the balance as her fleets battled the mighty Spanish Armada . . . When the Jolly Roger ruled the Caribbean, the buccaneers prowled the Spanish Main for plunder . . . The age of gold doubloons, pieces of eight, and, by no small coincidence, our "Spanish Main" 1/1200 scale series of miniature men of war.
Some of the gaming rules we recommend are Pirate published by Flagship Games, Ship of the Line Published by Battleline.
These items are kits. They are fine pewter metal castings, unassembled and unpainted.
International Buyers are responsible for any duty or custom fees.
Customers wanting to take advantage of discounts for multiple items and combined or free shipping should use the eBay "Add to cart"  button when selecting items. If you are an international customer and don't see the "Add to cart" button on your listing, please login to the US site. International Buyers are responsible for any duty or custom fees.
---
Share this Product
---
More from this collection