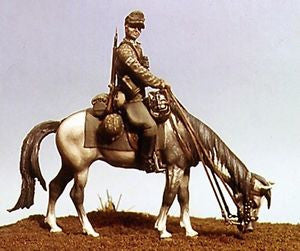 Kit# 9720 - German Mounted SS
---
Valiant Miniature Kit# 9720 - German Mounted SS Cavalryman, 1939 - 45. Although the war in Western Europe was almost entirely mechanized, on the Eastern Front both sides made extensive use of horse transportation, not only in support units but in combat formations as well. Horses were well adapted to warfare on the wide expanses of the Russian Steppes, since they did not require the spare parts and gasoline necessary to motor transport. There was plenty of grazing land in most areas and replacement mounts could often be found locally. Also, as the Germans discovered at Stalingrad, when the supply situation got tough, one could not eat a tank. Of the German mounted units, none were as feared as those of the Waffen SS. There were a number of these formations, the most famous of which was the 8th SS Cavalry Division "Florian Geyer", which had started the war as a regiment and still retained a proportion of its German personnel. The cavalry units were used primarily for anti-partisan campaigns, where their mobility and independence could be used to full advantage and their vulnerability to modern firepower would not hamper their effectiveness.
This item is an unpainted and unassembled metal hobby kits.
Standing figurines are approx. 2-1/2" - 3" tall.
This kit is in the International 54mm Collectors Scale and come unpainted.
Kit is recommended for ages 8+.
Artist Credits – Sculpted By Sheperd Paine  / Painted Master By Sheperd Paine
---
Share this Product
---
More from this collection