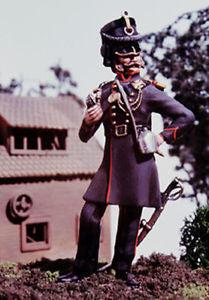 Kit# 9735 - Mounted Jeager
---
Valiant Miniature Kit# 9735 - Mounted Jeager, Lutzow's Freikorps, Leipzig, 1813. Few units in the Prussian army were more symbolic of the rebirth of Prussian and German nationalism than Lutzow's "Vengeance Corps". Originally organized as a small band of terrorists during the French occupation, they grew with the resumption of hostilities into a bonafide military force of formidable reputation. Recruited primarily in the student centers of Germany, the unit contained an unusual proportion of artists, poets, philosophers, and was easily the most romanticized of the Prussian volunteer formations.
This item is an unpainted and unassembled metal hobby kits.
Standing figurines are approx. 2-1/2" - 3" tall.
This kit is in the International 54mm Collectors Scale and come unpainted
Kit is recommended for ages 8+.
Artist Credits – Sculpted By Sheperd Paine  / Painted Master By Sheperd Paine
---
Share this Product
---
More from this collection