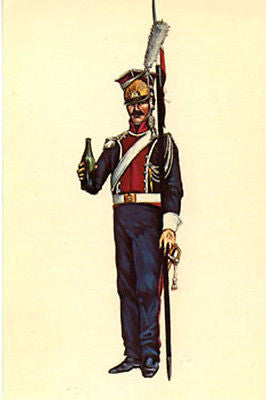 Kit# 9928 - Polish Lancer, 1812
---
Valiant Miniature Kit# 9928 - Polish Lancer, 1812. After crushing the Russo-Prussian Armies in 1807 Napoleon created the Duchy of Warsaw. A National Polish Army recruited into the newly formed Regiment de Chevau Legers Polonais de La Garde Imperial. In 1809 the Lance was introduced and the Regiment became the Chevau Leger Lanciers Polonais de La Garde Imperial. As part of the Garde they took part in all the major campaigns after 1808. At his first abdication, Napoleon released them from their personal pledge, they at first refused to leave him. When they realized that it was futile to remain it is well recorded that the entire regiment, veterans of seven years of constant warfare wept. Their final act as a regiment was to shout "Vive L'Emperor".

This item is an unpainted and unassembled metal hobby kits.
Standing figurines are approx. 2-1/2" - 3" tall.
This kit is in the International 54mm Collectors Scale and come unpainted.
Kit is recommended for ages 8+
---
Share this Product
---
More from this collection