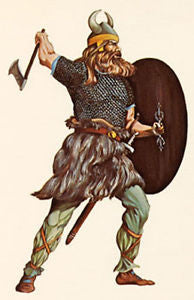 Kit# 9942 - Viking Warrior 850 A.D.
---
Valiant Miniature Kit# 9942 - Viking Warrior 850 A.D. A disorganized Western Europe, resulting from the collapse of the Roman Empire, was easy prey for any who could take advantage of it. The Northern Tribes, Swedes, Norwegians, Danes, and Frisians, who for many years had acted as traders and merchants within the Empire were quick to seize this opportunity. The first Viking raid was on a Northern English Monastery in 793 by Danish Vikings. In the ensuing years all the coasts of Western Europe were fair game to Viking raids. The most serious Viking thrusts were the invasion of England in 859 A.D.; the conquest of Friesland from 840-890 A.D., the invasion of France and the sieges of Paris in 885-886 A.D., and the invasion of Russia in 850-900 A.D.
This item is an unpainted and unassembled metal hobby kits.
Standing figurines are approx. 2-1/2" - 3" tall.
This kit is in the International 54mm Collectors Scale and come unpainted
Kit is recommended for ages 8+
---
Share this Product
---
More from this collection