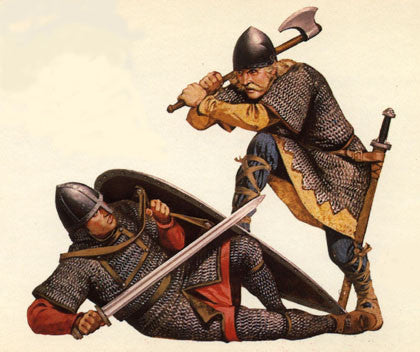 Kit# 9943 - Norman and Saxon 1066
---
Valiant Miniature Kit# 9943 - Norman Man-At-Arms and Saxon Housecarl, 1066. The future of Britain was decided on 14 October 1066 when William of Normandy's army of some 12,000 horse and 20,000 foot defeated King Harold Godwinson's 25,000 Saxons on Senlac Hill near Hastings. Harold fell among his loyal housecarls at the foot of his Dragon banner, as the sun set on the last Saxon king of England.
This item is an unpainted and unassembled metal hobby kits.
Standing figurines are approx. 2-1/2" - 3" tall.
This kit is in the International 54mm Collectors Scale and come unpainted.
Kit is recommended for ages 8+
---
Share this Product
---
More from this collection